Conferences, life, ties, stuffs like that…
by Ploum on 2007-03-11
2 weeks ago, I was at FOSDEM in Brussels. As usual, it was really great. It's always fun to meet in real life people that you see online nearly everyday. To say « Hello old friend ! » to a guy you just saw once in your life one year ago but that knows everything about your life because you chat with him every day.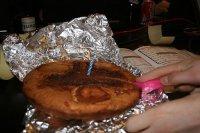 Ubuntu cake
FOSDEM was also a great opportunity to see people from Ubuntu-be and to meet friendly people from ubuntu-nl. Thanks to DJ, we even had a first birthday cake for Ubuntu-be and we sang « Happy Birthday to you » in an awful and really dissonant mix of Dutch, English and French. That's ubuntu-be !
I also covered FOSDEM for the PureFM radio, you can listen to the Podcast here. Did I tell you ? I will now speak about Free Software an Free culture on PureFM every sunday at 17:30, even from Mexico. Last week, I spoke about the Dell ideastorm thingy (podcast available) and, in a few minutes, I will explain more in details what Creative commons licences are. It's a lot of fun to hold such a little chronicle every week, thank you Damien !
Speaking about conferences, Waterloo, the city where I grow up and where I live (until Wednesday) will hold an « Internet week« . I agreed to give a talk about Ubuntu and Free Softwares a long time ago. Unfortunately, I will be in Mexico. Hmm, annoying… I asked Nicolas (Ubuntu and GNOME enthusiast, FOSDEM organiser) and Monique (Mozilla foundation, web accessibility evangelist) if they could replace me. They both accepted and you will enjoy two great conferences instead of one crappy hour of Ploum's jokes !
The funny thing is that both of them were at FOSDEM. As you can see on the pictures, they were perfectly disguised as average opensource geeks with large t-shirts and unshaved beard (last point only applies to Nicolas, of course ! 😀 ). As there will be nearly no geeks at the Waterloo conference but instead a bunch of tie dressed serious people, I wonder how will Nicolas and Monique be disguised. I hope someone will send me pictures 🙂
I wrote the previous paragraph as a joke but it made me think that free software is not a marginal thing anymore. It aims average people in their everyday life and, when we want to promote it, some of us naturally adopt a more commercial and professional look. We adapt ourselves to the intended audience[1]. I believe that it's a good thing. I discovered that wearing a tie makes your worst jokes sound like an in-depth very serious analysis of the situation. And that's a joke in itself…
But who want to be serious all the time ? That's also why I like FOSDEM so much : two days of being and acting like a good old-school geek in his natural eco-system. Tie or t-shirt ? I enjoy them equally ! Isn't fun in life about changes and adaptation after all ?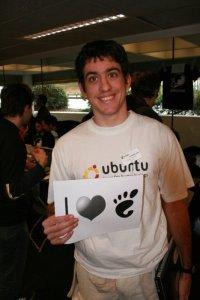 I love gnome
The mandatory « I'm a true nerd and I love GNOME » picture. « Do you know where is Vuntz ? He just won a pepperpad ! » « Vuntz ? He's behind the camera, as usual. »
Notes
[1] I agree that it's superficial. But that's how the world works those days…
As a writer and an engineer, I like to explore how technology impacts society. You can subscribe by email or by rss. I value privacy and never share your adress.
If you read French, you can support me by buying/sharing/reading my books and subscribing to my newsletter in French or RSS. I also develop Free Software.